Cable Management Panel
Cable Management Panel 1U/ 2U (customized height also available) – 23″/21″/19" cable management panels are fitted with bend control guides which, support and control the cable bending. These panels have a well defined path forming a cabling trough with guides for routing of the cable. The panels are mounted on telescopic slides.
Cable Managers
They are useful for routing cables horizontally along the cabinet front and prevents sagging of cable. This helps in a neat and uncluttered overall appearance. Cable loops can be fitted on vertical members to support cable.
Cable Trays
They are available in medium duty to ultra heavy duty, to cover all types of internal & external installation. Constructed from internal stress free CRC sheet with choice between hot dip galvanized and Powder coated finish.
Fan trays are required when equipment mounted inside the cabinet/ rack need forced air cooling. Fan trays built into specific Veekay Racks & Cabinets caters to the cooling requirement of the entire rack/ cabinet. These trays can be fixed at the top of the rack or can be moved to a specific position as per the cooling requirement. A Fan tray can accommodate a maximum of 4 nos. 230 V AC Fans, with the fans being ordered separately. Thermostat can also be connected to operate the fan automatically depending on the temperature inside the rack/ cabinet.  In wall mount cabinets fan can be directly mounted on the top to save space. Metal finger guards are provided with each fan / fan tray.
The AC Mains distribution box is designed for both 19″ horizontal mounting and 19″ vertical mounting. It has a 3 meter power cable for connection to the external power source. Standard models have five sockets of 5Amp. Also available model with 5 sockets of 15Amp. PDU with European sockets provided on demand.
Power Distribution Units
Normal & Heavy duty shelves take care of all the electronic equipment's to be installed within the cabinet. Shelves are available in sliding / fixed variants. Cantilever, Stationary and Keyboard shelves area available in various depths and sizes based on specific requirements. Equipment mounting angles are also available as low cost solution for mounting of equipment's.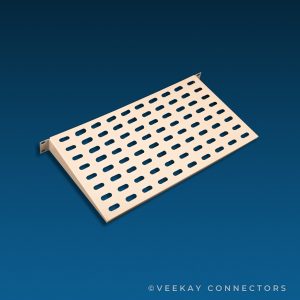 Cantilever Tray
Standard mounting hardware includes a M6 Cage Nut & Screw to provide easy mounting of standard 19″ equipments in the racks/ cabinets.
Heavy duty and premium quality castors provide easy movement of racks. These castors are available with or without brakes. Metallic parts of the castors are zinc plated for longer life.
Castor Wheels
Veekay's Racks and cabinets are available with the following safety & security options, these come in different models and can be customized provided as per Client's requirements. Such as Locks, Door Alarms, Smoke Sensor, Temperature Sensor and Cameras. 
Locks
KVM switches are hardware devices that allows a user to control multiple computers from a single console (keyboard, monitor and mouse). Using a KVM switch can help save money on redundant hardware, reducing desk space, limit cable clutter and increase performance by having multiple computers working as one. KVM switches are often found in data centers where multiple servers are placed in a single rack. Veekay's KVM switches come with a host of interfaces and functions to meet general and specific needs. Whether at home, in office or in the server room, a KVM switch allows you to access any computer on your installation from a single console.